Context
Product customization has now become a necessary condition for building a solid relationship between companies and its customers, and 3D configurators are its natural interface.
Thanks to the high realism of 3D rendering technologies, users can enjoy a natural and immersive shopping experience, creating the product of their dreams directly from home and being able to get a real idea of the realized and realizable output.
---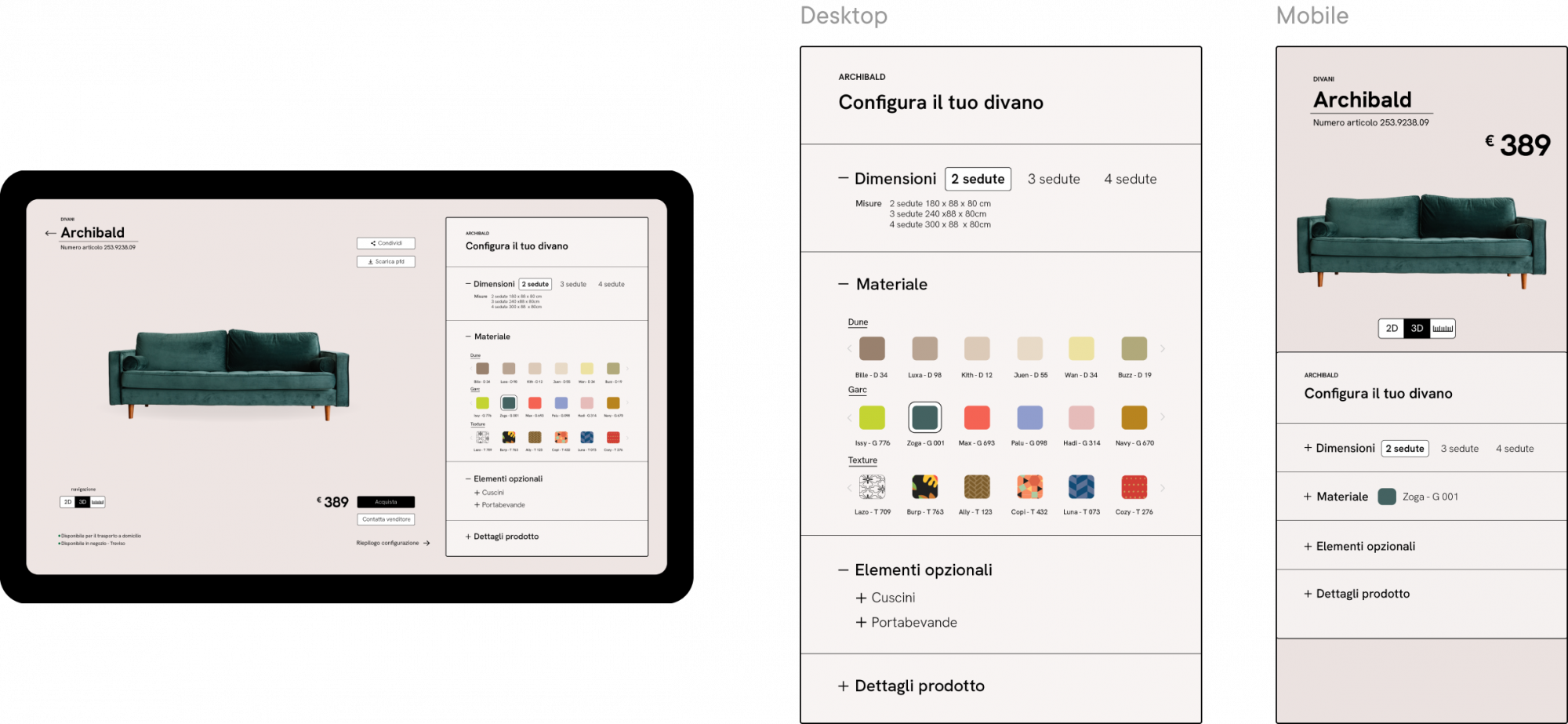 ---
However, companies that would like to approach these solutions and offer this interesting configuration model to their customers generally face some difficulties and limitations:
high 3D modeling and rendering costs;
scalability problems: the cost increases exponentially as the number of configurable combinations increases;
the configurator does not react in real time to the available configurations provided by the business management system;
the customer cannot independently manage the configurable parameters;
difficulty in configuration from smartphones;
limited user interaction; unrealistic configured products.
Development process
Given the complexity of the scenario and the issues that arose, our R&D team came up with MALMO, an original platform dedicated to the customization and photorealistic representation of products. Our 3D configurator based on this technology is capable of combining the latest browser-based 3D modeling technologies with a flexible configuration engine connected to the company's existing management system.
This is an innovative solution that allows companies to limit management costs by making use of 3D models already on the market that we optimize for visualization from the Web. Although each individual item in a company catalog may have varying degrees of customization, it is no longer necessary to pre-render all possible configurations.
Thanks to the connection of our 3D configuration software to the business management system, in case a specific configuration parameter is not provided, the configurator reacts in real time and directly from the browser allows it to be defined and implemented.
---
Output
The innovative solution we developed, adopts WebGL, Three.js, Rule engine and AR technologies, and enables:
a high degree of flexibility in managing the possible combinations;
a complete autonomy by the user who will not have to install any additional application, but will be able to perform any operation directly from their browser;
integration with third-party e-commerce, consequently also improving sales metrics;
accurate aesthetic rendering through realistic configuration of both material and environment;
360-degree freedom of movement and zooming of the configured object;
a smooth and fast user experience even from smartphones.