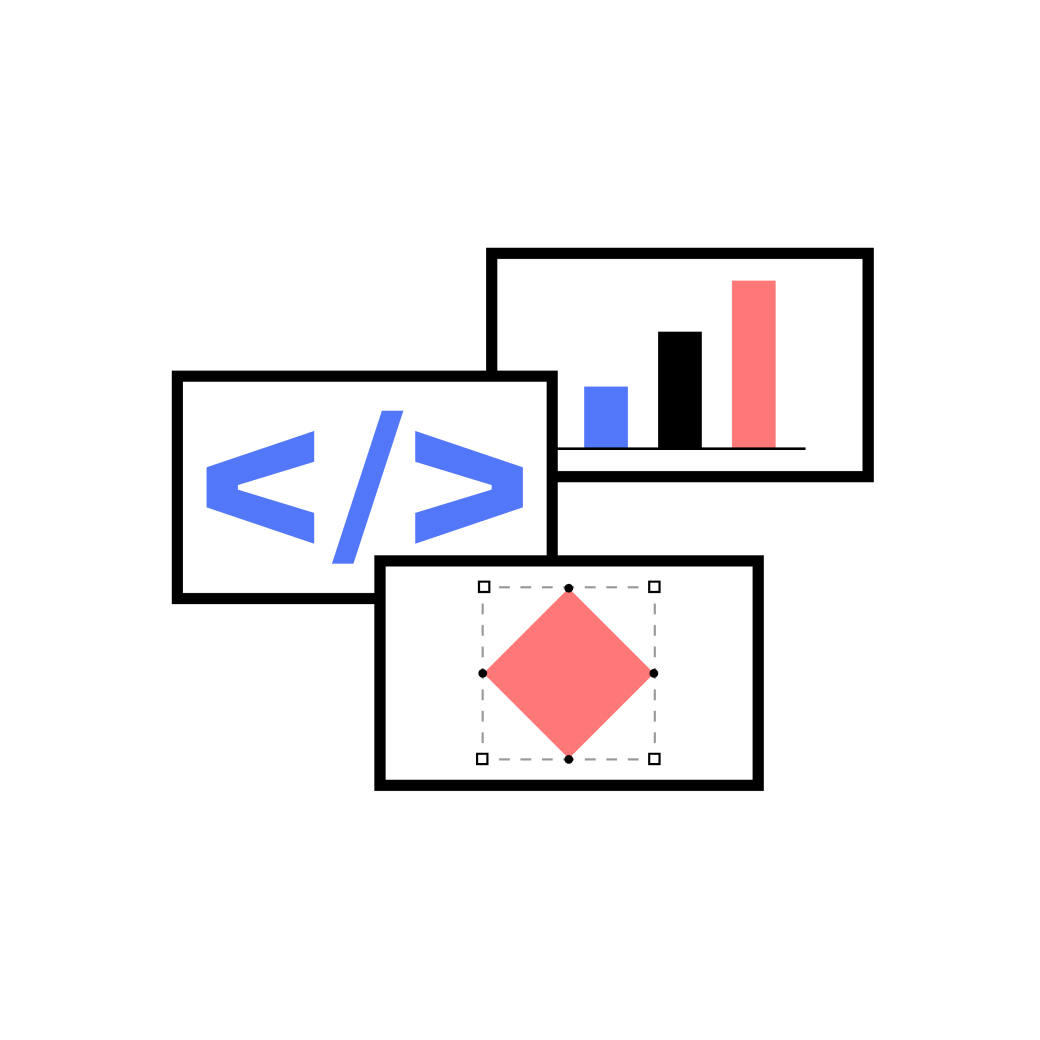 Services
All our expertise, at your disposal.
Software development
Technical expertise to support your business
We turn your ambitious vision into reality, guiding you with experience and method.
System integration e Software Middleware

Web app development

Mobile app development

API development
Consultancy
We help companies define goals and the strategy to achieve them
We are not just a supplier, but a technology partner who shares your business strategy through common goals and adherence to budget.
User-Experience (UX) analysis

Business strategy

Analysis and design

Technology partner

Startup launch
Visual design
Interfaces that exceed your expectations
The interface represents the point of contact between your product and users. To achieve an optimal result, we start with a careful analysis of flows to create consistent, modern, and memorable solutions.
Research and design

Art direction

Branding

Motion Graphic
Get in touch
If you think what we do might be right for you, contact us. We are always available to set up an appointment and introduce you to the team.
Clients
Client
Project
Industry
category
247 Showroom

FABS - Fashion Buyers Society

Fashion

Startup

Adaptica

Kaleidos

Biomedicale

Tailor-made software

AGES

Assevero

Sicurezza sul lavoro

Startup

Akern

KetoApp

Biomedicale

Tailor-made software

Università di Padova

Alumni

Education

Tailor-made software

BBPay

BBPay

Finanza

Startup

Bedside

ETOX

Biomedicale

Digital transformation

Bedside

Monitor

Biomedicale

Tailor-made software

Bien Air

ITR

Biomedicale

Digital transformation

Conio

Conio App Mobile

Finanza

Tailor-made software

Elan Vital

Automazione Accessi

Palestre

Digital transformation

EVCO

EVLink

Industria

Tailor-made software

Falmec

AirHUB

Elettrodomestici

Digital transformation

Finantix

Finantix

Finanza

Tailor-made software

GoSnail

Lyyra

Gestionale

Startup

H-Farm

App mobile

Innovazione

Tailor-made software

H-Farm

Sale riunioni

Innovazione

Tailor-made software

Home Festival

App / Portale web

Festival musicali

Digital transformation

Zoppas Industries

Stone WiFi / BLE

Domotica

Tailor-made software

ItaliaInnovation

Portale

Innovazione

Tailor-made software

Libricity

Libricity

Librerie

Startup

Loft Consulting

Entity

Education

Startup

Dedu

Dedu

Servizi sociali

Startup

Maglificio Spagnol

Archivio digitale

Manifatturiero

Digital transformation

Nice

Opera

Automazione

Tailor-made software

OTX

OTX Platform

Energy

Tailor-made software

La Rinascente

Archivio La Rinascente

Fashion

Tailor-made software

Tecan

Octopus

Biomedicale

Tailor-made software

Welfare In Rete

WAVE

Welfare aziendale

Startup